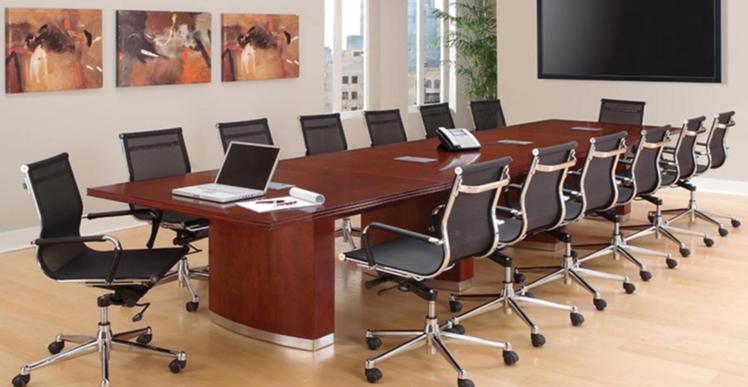 Statistics say that managers spend more than 35% of their time in meeting rooms. This is where you use conference tables. Do you want the best for your team? Of course. Yes. Getting a well designed and functional conference table is going to be a part of that plan.
There are many factors which you need to keep in mind when selecting conference tables available in the market. The selection is based upon the size of the room, the shape of the conference table, price, brand, functionality and so on. Ensure that the conference table doesn't occupy the majority of the room as it will make walking around the room difficult or make an ad hoc presentation.
Here are the things that you need to consider when choosing conference tables:
#1 Shape:
As soon as when someone enters the conference room, the first thing they notice is the shape of the table. Shapes and layouts have an emotional and behavioural impact on employees. Some of the most popular shapes in conference tables are the following: 1. Circles, 2. Squares and Rectangles, 3. Triangles.
Circles are an efficient choice for conference rooms as they eliminate distractions and keeps the people more focused. Circle shape creates a feeling of belonging and instils thoughts of power and unity.
Squares and Rectangles are associated with order, stability, discipline, and rational thinking. You can use squares and rectangles in smaller conference rooms.
Triangles suggest action, progression and direction. It is better suited to a growing company than an established company.
Some of the other shapes are race track, modular, boat-shaped, bow-shaped, B-Tie and more.
#2 Room Size:
Before you buy any conference table, you need to know the size of the room. Only when you do that can you find a conference table that your meeting room can afford to hold. Measure the length of the room. Do not let the conference table occupy the entire room. The conference table should occupy only enough space while letting people walk by around without any disturbance.
You need to account for space in the conference room for other things as well. If the conference room will have presentations, then you need to leave space for that as well.
#3 Seating Capacity:
Unless you have a budget and you can afford a huge office space with many conference rooms, there is nothing to worry about. If not, you need to account for how many people will be a part of the meetings so that you can buy a conference table that will account for them. If you think there will be a maximum of 10 people in a usual conference, then account for at least 15 people. Buy as many chairs. Visualize how the number of chairs will fit around the conference table while still keeping some space.
#4 Power sockets:
The meeting attendees would obviously be using their laptops, smartphones and other electronic appliances. It is a must that it comes with power sources. In fact, most conference tables that you see in reputed organizations have power sources on the table itself designed in such a way that the number of sockets available reflects the seating number. The cables and cords should not affect the aesthetic of the conference room.
#5 Aesthetics:
If you have no clue how to go about purchasing a conference table, we would suggest you buy something that will blend in with the rest of the furniture. As we mentioned earlier in the first point, there are different types of shapes available when you get out to choose conference tables. Get the help of furniture experts like Garnet Furniture who will help you traverse through this tricky situation with sound advice.
#6 Budget:
Have a budget in mind before you purchase a conference table for your meeting room. If you don't want a conference table with a lot of frills, you can reduce the cost by a huge margin. But do not lose out on functionalities that you want if the cost is a little higher than expected. Prices vary according to the size of the table, its make, and if it is a part of the old or new collection. At Garnet furniture, you will be able to find conference tables that will fit your budget and your expectations.
Conclusion:
A great conference room is an asset for your business. Do not take it lightly at all. It can not only portray power and authority, but it is also a piece of highly functional equipment for your office where you can brainstorm ideas to grow the company faster. Keep the six things that we mentioned here in mind to buy a good, sturdy and functional conference table for your office.
If you are looking to purchase a conference table and you have no idea where to start, Garnet Furniture is the best place to be. Why? Because our furniture experts will make it simple for you with our advice on purchasing a conference table. Select the conference table of your choice without any hassle and get it delivered in the fastest time possible directly to your office.