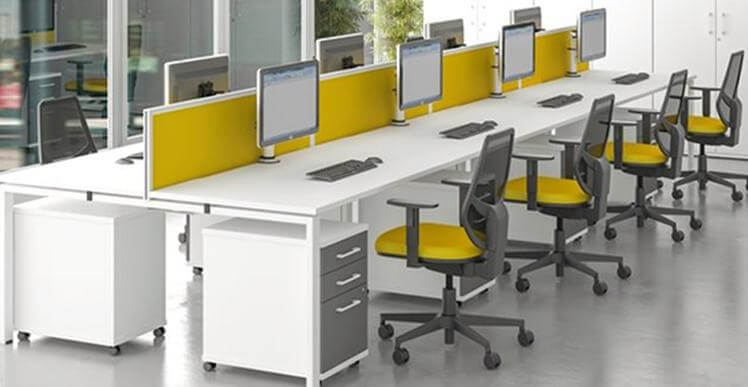 Furniture can be sometimes super expensive to buy and even if you the requisite budget to buy what you want, you have to make sure that you are getting the maximum bang for your buck. Always try to get the best deals for your furniture as getting stuck with below par furniture will not sit well for you. Here are some of the dos and don'ts when it comes to buying furniture:
Dos:
Pay attention to the fabric:
Using natural fibers are highly preferable but most of them have a cinch of synthetic mixed in most places to make it more durable. Fabrics mixed with synthetic can help keep the costs down, but you should also make sure that the quality is not affected. If you are looking for upholstery, the one with the most durable fabrics are velvet and tweed.
Buy with the future in mind:
When you are buying furniture, keep in mind about your changing business needs before you invest significantly. Ask yourself if the configuration that you are buying right now is in accordance with how you expect your company to grow in the future. Think about long-term and you might be able to significantly save yourself a lot of trouble in the future.
Do consider employee comfort:
Buying furniture keeping in mind the comfort of employee is the single most important thing that you need to realize. If you don't have the requisite budget to buy decent furniture that keeps them comfortable, then increase your budget because it is the basic facility that you need to give to your employees. It is not just a plain chair, there are a lot of things that go into creating an office chair which keeps their comfort first in mind. Think about what will keep your employees comfortable and invest money in it.
Work with a furniture expert:
Working with vendors who can provide professional furniture services is a smart move to make if you are planning to spend a lot of money on furniture. They will make sure that you make informed buying decisions and not buy randomly. These experts will lay out the entire office area, they will tell you what kind of furniture to buy, where to place them and how to make use of the space in a much better manner. You can also account for any changes that might happen in the future.
Don'ts:
Don't shop in a rush:
When you go furniture shopping, if you take less time to choose the stuff you want, you might be in for a regret. It is always wise to choose without a hurry, especially furniture. You might miss certain factors if you don't give much care about the item that you eventually choose. Test out each piece of furniture that you intend to buy, let it be recliner, sofas or beds. Ask questions about the type of material used, styles, durability and more.
Don't go without a plan:
When you are going to shop for furniture, please be prepared as it is easy to fall for tricks. The vendors might pass off low quality materials to you as good furniture in case you don't know what exactly you want. If you are not well prepared, you will either go out of the shop with items you weren't planning to buy or end up buying the right furniture which is made of the wrong materials. When you know what materials you want, colors you are looking for and the kind of upholstery you want, you would be able to make smarter decisions.
Don't over spend:
When you like a piece of furniture, there are chances that you might end up overspending on it just to feel that high. Worst is when you are shopping online for furniture and it is much easier to overpay when online as you don't see the money going out of your hands. Remember that when it comes to furniture there are always places where you can get goods for half the price if you only spend some time doing your research.
Don't judge using colors when buying online:
Furniture sellers use the services of professional photographers to make the furniture look as attractive as possible. Then these pictures are edited and marketed well by a team that has huge budgets for it. Therefore, it is easy for you to fall for the attractive colors used and be all right with opening your purse strings.
Conclusion:
Now that we have given you tips on the various dos and don'ts associated with buying furniture for your office or home, we hope you follow them to the T to make sure that you get the most optimum solution for your money. Choosing the right furniture is more than just falling for how it looks. The style and construction of the furniture should be in such a way that it has to last a lot of years and also consider various other features that will help you seal the deal.